George HW Bush's Service Dog, Sully, Mourns Owner in Viral Photo
President George H.W. Bush's spokesman posted a photo to Twitter on Sunday night of the late president's service dog lying in front of a flag-draped casket. Even after Bush died, though, Sully still looked out for his appointee, whom he began to serve in June, just months after Bush's wife, Barbara Bush, died in April.
According to America's VetDogs.org, the specially-trained service dog was specifically matched to provide support and companionship to the late President Bush in his daily activities.
The 2-year-old yellow Labrador will reportedly accompany Bush's casket on the flight to Washington D.C. later today, CNN and other media outlets reported.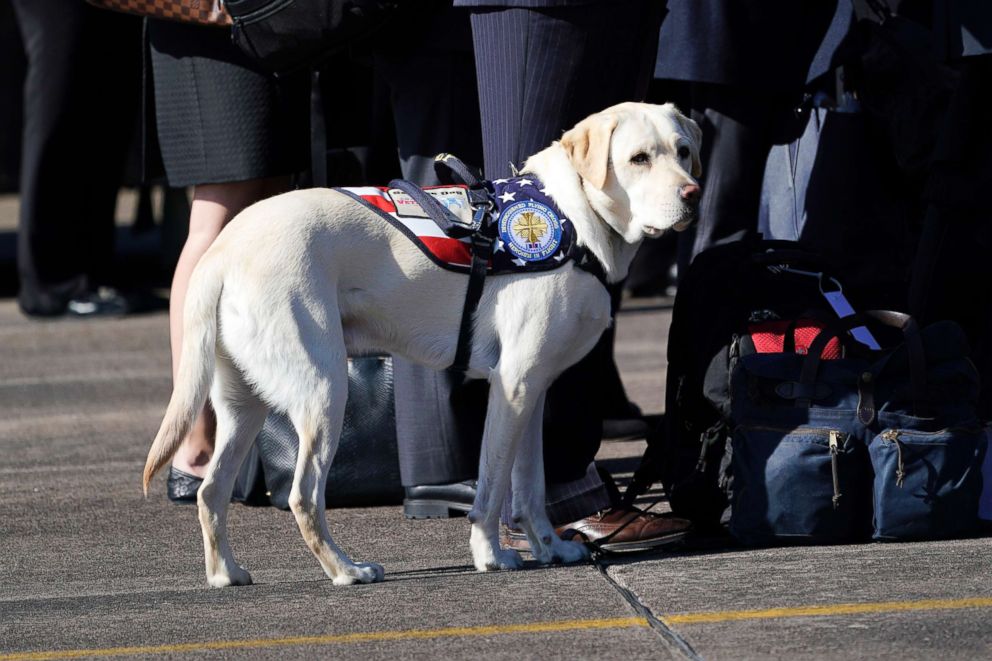 David J. Phillip Pool AP
KTRK-TV in Houston reports that Sully will return to America's VetDogs in NY and then join the Walter Reed National Military Medical Center's Facility Dog Program. Bush died at home in Houston on Friday at age 94.
President Donald Trump designated Wednesday as a national day of mourning, the White House said. Then the former president will lie in state in the Capitol's rotunda starting at 5 p.m. Monday until Wednesday morning.
Sully has his own Instagram account; here he is shown "assisting with voting" as Mr Bush cast his ballot in last month's USA presidential mid-term election.
Top Stories
United States and China 'will impose no new tariffs'
China, in response, had been threatening to impose taxes on an additional 5,000 types of American imports worth about $60 billion. At Trump's request, China agreed to label fentanyl a controlled substance due to its contribution to the U.S. opioid crisis.
Gov. Ricketts Praises Signing of United States-Mexico-Canada Agreement
Trudeau echoed Trump's message, saying the new pact protects the middle class in Canada and generates new business opportunities. Both countries responded with retaliatory tariffs - which remain in effect, despite the leaders having signed the agreement .
Cayman records 7 new HIV infections in 2018
It also includes men who have sex with men, transgender people, prisoners and the sexual partners of these people. - South Africa has the world's highest HIV prevalence, with nearly one in five people infected.
Priyanka Chopra, Nick Jonas marry in Indian royal palace
More than 200 people have been invited for the wedding celebrations at Umaid Bhawan in Jodhpur . "They are doing both". They will follow up Saturday's ceremony with a Hindu wedding the following day, to celebrate Priyanka's heritage.
Which Celebs Are Going to Be at Nick Jonas & Priyanka Chopra's Wedding?
Each one will be "held in different spots at the palace in Rajasthan". Priyanka Chopra and Nick Jonas are going to get married very soon.
Doubts persist over Arsenal's Europa League match against Vorskla Poltava
The Gunners' midfielder and Armenia captain Henrikh Mkhitaryan also took part in Wednesday's pre-match press conference. Overall, every player can go home happy, but there were two in particular that stood out...
Spurs Boss Mauricio Pochettino Makes Bold Claim Ahead Of Barcelona Clash
Chelsea and now Inter and both games were must win games. "To do that there's no player - maybe the keeper - who can play in the 12 games".
Dolce & Gabbana Dropped by Multiple Retailers Following Racism Allegations
Luxury brands have poured into China in recent years, attracted by its stunning growth and its increasingly affluent population. The gaffe is not the first by Dolce & Gabbana in China , even as it pushes to increase its appeal there.
Backed Senate candidate wins election after controversy in Mississippi
A separate video showed her talking about "liberal folks" and making it "just a little more difficult" for them to vote. In 2014, Hyde-Smith posted a picture on Facebook of herself wearing a replica of a Confederate army hat.
First Lady Melania Trump Unveils 2018 White House Christmas Decor
Ornaments adorning garlands in the Red Room feature Melania Trump's "Be Best" anti-bullying campaign logo. Her spokeswoman, Stephanie Grisham, said Trump decided "to let the decorations speak for themselves".